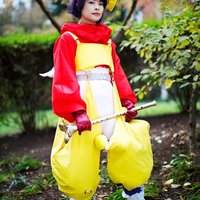 Eiko Carol
Description
This costume was patterned 100% by me. I made this to compete in and never competed! Oh well.

Shirt: red cotton with wire around the collar.
Overalls and bow: yellow broadcloth
Boot covers: white polyester suiting
Horn: Sculpey
Flute:
Last Updated: January 30th, 2014 at 3:52 AM

Photos
Comments

TheBeardsman
This is so amazing! I didn't realize how few of your cosplays I had seen. I love this one. Fantastic work, Ger.
January 30th, 2014 at 7:53 PM