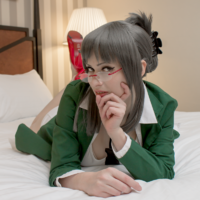 Aiko Yumi
Role

Cosplayer

Series
Characters
Details

This is one of those costumes that started out as a "wouldn't it be funny if--" and was so simple, I just had no excuses!

We had such a fun group at MAGFest, and another one is planned for Tekko!

I'm really happy with the wig--I got a curled one from Aliexpress and straightened it, cut it and styled it all on my own--nerve wracking, since I'm currently 50/50 with wigs. The glasses are actually the ones I bought for Ito--close enough, right?

I used the McCall's school girl pattern for the jacket, and I'm really not fond of it. I had to take it in a LOT to get it to fit remotely like Aiko's--even as a regular jacket, it's just so bulky. I guess it's really not made for scandalous cosplay, haha!

Shorts and shirt were thrifted and sized down a LOT. Same with the tie--I basically resewed it so it's a fake. Shoes were ebay.

Overall, I spent about... $45 total on this. Not too bad.