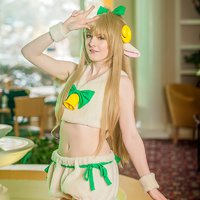 Seepy Kotori
Role

Cosplayer

Series
Characters
Details

Kotori: https://www.facebook.com/FeliciaDarkCrafts
Maki: https://www.facebook.com/KanamiCosplay
Hanayo: https://www.facebook.com/PuddingCosplayPhotography
Eli: https://www.facebook.com/hanahmiya
Eli: https://www.facebook.com/devoncosplay

Made with a faux sheep fur and a textured green linen.

Top: For the top I simply took a women's dress pattern and altered it to the measurements of where I wanted the bottom to end. Darts are sewn between each chest and two along the back. I had to add a detachable zipper to be able to get in and out of the top. I ended up lining it so you couldn't see through the faux sheep fur.

Bloomers: Flatlined the bloomers with a nice cotton as a lining. Hand sewed the hems and placed elastic on the inside. Cut little 1" holes (4 in front, 4 in back) for the belt to fit through. Belt is made to tie in the back with a tiny bow so I could allow other people to wear the costume. Bows are hand stitched to the belt.

Accessories: Horns are designed and printed by my roommate (. Sanded, epoxy, sanded again, and painted. They can be mounted on the wig through the holes in the back of the horns (2 top, 2 bottom) and tied to the inside of the wig. Ears are clip on. Chest bow is made from textured lining and interfacing and hand sewn to the top. Bell designed and 3d printed by roommate as well and sewn to the bow. Leg warmers are measured to about 15", flatlined, and hand stitched down with elastic at the top.