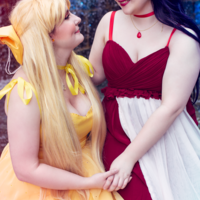 Princess Venus and Princess Mars Katsucon 2019
Role

Seamstress

Series
Characters
Details

Photography is by Magnetic Jade Photography
Skelotia.cosplay is Mars
Forehead gems are from UniqueCosplayProps on etsy, necklaces are from ebay.
Sword is a 3-D print from rawrbomb, assembled and completed by me.
My gown was made by me; Meg's was an amazon base I helped her alter.