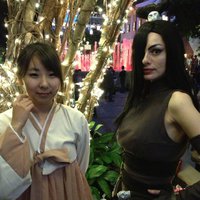 Song
Role

Cosplayer

Series
Characters
Details

Debut: Katsucon 2013

lol, one-shot *cough*Korean*cough* character.
With Neoqueenhoneybee as June!

I have hanboks so I just guestimated and traced. Turns using linen-like fabric is not good for actual hanbok width. Was WAY too bulky. Had to cut a 1/3 of it out.

Made baggy pants that tapered in.