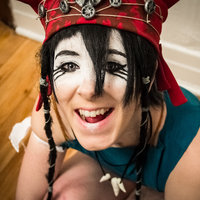 Kai
Role

Cosplayer

Series
Characters
Details

This was one of my three dream cosplays, I am so happy to have done it!
There are a few things that I could have made in a better way but of well!

Here goes,

Hat: I patterned a hat from scratch and sewed it all together and hand painted with acrylic paint the little designs. The ears are doubled with a kind of craft foam, the stars are made out of fimo and also painted with acrylic paint. I bought some small rope from OmerDesserres!

Wig: It's a white wig that I sharpie dyed to black(it keeps on undying on my skin ;u;) and cut up. My friend made the dreads on the sides by brushing them upside down and boiling them in water and the strings are the same ropes on the hat that I painted grey.

Necklace: It's black rope from Omerdesseres that I had bought for my Gary costume, haha! The teeth are made from Fimo and painted with acrylics.

Straps: They are simple strips of fabric with velcro to hold them together. They fall all the time so I put a bunch of fashion tape(though it's expensive ah, me)
I have hidden soles taped to my feet all day.
Some of the darker blue straps are dyed with fabric dye bought at Omerdesserres, same with the ovale on the dress.

Dress: I modified a pattern and sewed it at the base, there is rope and white very cheap fabric in there. The ropes on the side were bought at dollorama and sharpied to their colours!

Bra: I cut up a bra for the first time I wore it but the second time I simply put masking tape over my breast. Ow.

Waist band: I long doubled strip of fabric on which I drew with a sharpie multiple designs.

Makeup: Usual makeup but the white/blood is from those Halloween makeup packs and they hold very well when covered by Urban Decays last forever spray thingies!

Crossbow: The base is cardboard, journal paper, expanding foam, covered with tape, paper maché and white paper. The little viewfinders are transparent folders with wire and cardboard. The wings are also cardboard held on with hot glue but they fall all the time so I'll fix them up with worbla as soon as I have the time. It was all handpainted and I had help from a few of my friends to finish it up in time for Otakuthon 2015!