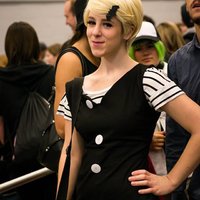 Courtney
Role

Cosplayer

Series
Characters
Details

I wanted a comic book costume for MCC but I didn't really know and comic book except from my childhood ones and I was really restraint on time so I wanted to do something simple and so Courtney came to mind! I know I would'nt be recognized but I really like this character so I went ahead and made her in about 3 days!(which is really fast for me hahaha)

Wig: I styled this wig(though I'm not satisfied with it :<): http://www.wig-supplier.com/25cm-short-blonde-alois-trancy-kuroshitsuji-straight-cosplay-wig-p-526.html

I already had the shoes from my Roxas cosplay so I painted the front in white(it cracked after the wear at the convention but oh well!)

I bought somewhat stretchy black fabric for the dress and big buttons and sewed it with an altered pattern I already had(I didn't include a zip because I'm lazy so it's very hard to get in and out of this dress!)

I bought the black and white kneesocks from a random-savior-dude and the black and white shirt from value village.

I made the little bat-barrette from two pieces of vynile glued together and it holds with a bobbypin.