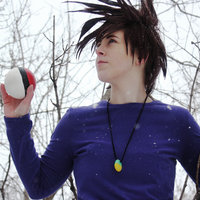 Gary
Role

Cosplayer

Series
Characters
Details

Wig: I restyled it with my friends and now it looks awesome!

Boots: I bought boots that were the same colour as Gary's and painted darker stripes.

Shirt: I bought the shirt at Value Village and sewed red fabric on the bottom of it.

Pants: I bought them at a random store.

Necklace: I used model magic, painted it and pierced a hole through it to enter the thread and tie it at the back of my head.

Pokéball: I used a styrofoam ball and I painted it.