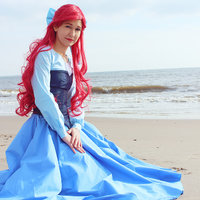 Ariel
Role

Cosplayer

Series
Characters
Details

The Little Mermaid is my all-time favorite Disney movie. After many years wanting to fit this into my cosplay schedule, I finally made it happen. A cute but simple costume, I am incredibly pleased with myself and am so glad to say that I've cosplayed as Ariel and done it well.

More rewarding, however, was having little girls coming up to me at the convention to take their picture with me. It made me so happy. I really did feel like a Disney Princess.

Most recently, Jenni made Vanessa to go with my Ariel and we got photos out on Coney Island. I'm so happy with the results, and it was so fun shooting with Jenni again!