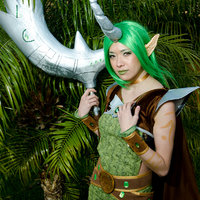 ALA14 - Dryad Soraka
Convention
Animé Los Angeles 2014 (ALA)
Role

Photographer

Series
Characters
Details

It's really hard to shoot at that green hill with the literally hundreds of people in the background as well as right next you. Still, green is needed so green we shoot in. XP

(with some flashes to help with lighting)

Got the timing wrong in more ways than one (communication problems on site...totally my fault in this case T__T ).