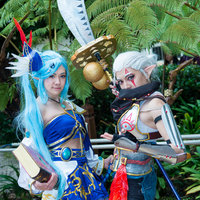 Hyrule Warriors - Anime LA 2015
Convention
Animé Los Angeles 2015 (ALA)
Role

Photographer

Series
Characters
Details

Lana - Xxfruitcakexx
Impa - Gandakris

Who says you can't try your best on the last day when everyone is dead tired.

NOPE! KEEP ON SHOOTING! 8D
(until I get on the plane...then I sleep)

The ONLY shoot where I used (mostly) natural lighting and no complex stands...for once...at this con...which is super crowded...