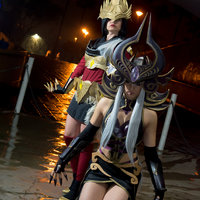 Dual Syndra - ALA 2015
Convention
Animé Los Angeles 2015 (ALA)
Role

Photographer

Series
Characters
Details

Syndra - Royal Blue Cosplay

Due to the rain and the darkness, we narrowly cancelled this shoot...well more the rain and less the darkness. Well the garage would have been the normal choice but security got their first so.....oh hey...there's reflections of light on the rain, LET'S SHOOT HERE!

The armor does make posing a bit difficult, but hey, it's dark, the cosplay is dark, that automatically makes it awesome.

...I should invest in more colored lights.