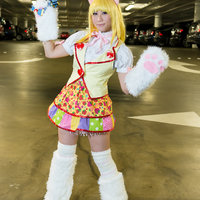 Yumeria Moegi (AkibaRanger) - Anime LA 2015
Convention
Animé Los Angeles 2015 (ALA)
Role

Photographer

Series
Characters
Details

Yumeria - Paprika Mari

Friends of mine showed me that Unofficial Sentai series and I loved it. (mostly for Sentai fans, but even Power Rangers and regular anime fans can enjoy it too. =P )

Anyways, snuck into parking garage again and did this real quick. Not as good of a lighting since we were rushing all the poses we could think of.

Ready for Round 2 eventually.

In the mean time: JUN MOUSOU!!!!