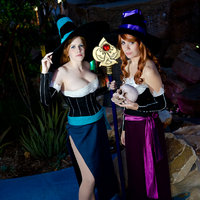 Sorceress (Dragon's Crown) - WonderCon 2014
Convention
WonderCon 2014
Role

Photographer

Series
Characters
Details

Sorceress - Varnani
Sorceress (alt) - KittyCatChi

Shot this "early" enough to get some nice even lighting shots near the rocky waterfall. Got some of the background colors to make it more magical. =)

Unfortunately, the larger fountain never did that color show it did last year so we didn't stay long at that spot.

Still, quiet happy with the results. Usually it's hard to portray magic, especially at a convention.