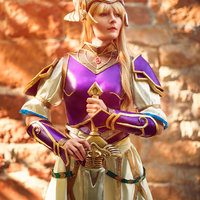 Silmeria
Role

Cosplayer

Series
Characters
Details

This costume was created for the 2016 Canadian World Cosplay Summit preliminary competition which was held at Otakuthon, in Montreal QC.
This cosplay challenged all of my know skills, and eventually my health, but it was an experience that I wouldn't trade for the world.
My partner @Mae-Gwyn Cosplay made Alicia, Silmeria's Human counterpart. I wouldn't have wanted to do with compititon with any other person than her, great cosplayer, great friend. Lots of thanks also goes to our support crew- I'm quite confident I would have died without them.