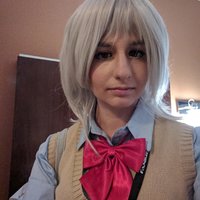 Ichiko Sakura
Convention
Anime Expo 2017 (AX)
Role

Cosplayer

Series
Characters
Details

This show brings back all kinds of memories as well as nostalgia from my high school days. My favorite character? Hard to choose but I love Ichiko!

- Vest and bow were purchased off Tokyo Otaku Mode. They are part of the Japanese "Teens Ever" fashion line. I found them for a good price since Little Tokyo sells the same ones for a LOT more.

- The loafer-like athletic shoes I already had. They're also used for Yandere-chan.

- The socks were purchased at Target. I use Japanese sock glue to keep them up!

- Shirt, skirt, and wig were purchased off Amazon. The latter was cut/styled by TricksterRedux

- Later on, a new wig was purchased from Epic Cosplay that's more accurate.