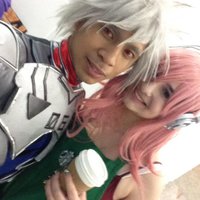 Super Sonico
Convention
Animé Los Angeles 2017 (ALA)
Role

Cosplayer

Series
Characters
Details

Okay, I've fallen into Super Sonico's trap. I love her too much AND I love Starbucks. So what would be cuter than cosplaying her as a Starbucks barista?

- I got the wig, headset, and apron off ebay

- The shoes are the ones that I wore with my Sasuke lolita and were purchased from hot topic

- The shorts and shirt are some that I already had

- The socks are the same ones I used for my Shinoa JIDA Military Cosplay. I use sock glue to keep them up.

Overall, this is pretty much a closet cosplay, but I wanted to wear something cute and comfy but not too revealing. >///< Most of her official outfits are waaay out there, haha.