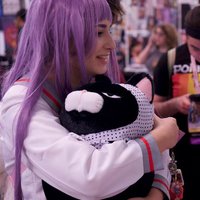 Mahiru Hiiragi
Convention
Animé Los Angeles 2017 (ALA)
Role

Cosplayer

Series
Characters
Details

I really love her design and thought how fun it must be to cosplay her! So I did. Here's some info.

Wig and uniform were purchased from ebay. The former was styled by TricksterRedux

Stockings were purchased off amazon

Shoes are the same black loafer-looking althetic-type shoes that I wore for my Yandere-chan cosplay.