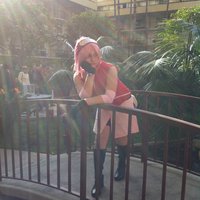 Sakura Haruno
Convention
Animé Los Angeles 2013 (ALA)
Role

Cosplayer

Series
Characters
Details

- The headband was bought from amazon.com.

- My grandma and I decided to use a "New Look" pattern. The apron/skirt was used with a soft pink fabric.

- The arm warmers are actually pink socks with the toe part cut off. Making the arm warmers would be very difficult, as I'd need something that would be a bit more on the stretchy, sturdy, yet tight side.

- Gloves and shorts were all bought from your local Wal-Mart.

- My boots are just regular go-go type black boots that I bought off amazon

- The shirt was made by my other grandma and I. I was exposed to using patterns when I worked with her.

- Wig was purchased from Cosplay FU back in 2009. I love their wigs! Super comfy and adjustable.