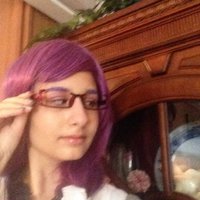 Rize Kamishiro
Convention
Anime Expo 2015 (AX)
Role

Cosplayer

Series
Characters
Details

The minute I saw the first episode of Tokyo Ghoul, Rize instantly became my favorite!

- For the purple undershirt, I just bought a regular long sleeved purple v-neck shirt, had the sleeves altered and then hand sewed black lace to the shirt's collar and sleeves.

- I wore a semi-formal grey shirt over the purple one I altered

- Over the the grey and purple shirts, I put on a white tank top to keep the dress I had on over them white. I also wore a slip underneath so my tights wouldn't show as much

- Glasses were purchased off amazon

- Black shoes were bought at a thrift store

- Base shoes that I customized (that are worn with the green tights) were also purchased off amazon. I took wet pink paint and painted the front of the shoes. I did about 3-4 layers before moving onto the back where I did the same method except with dark blue paint. After both sides were completely dry, I then hot glued the the frilly things (which were originally just a long string of ribbons gotten at Michael's) to the front of the shoes. Afterwards, I went over the paint with mod podge to seal it.

- Wig was cut and styled by TricksterRedux as well as the black belt

- For the new wig, I purchased it off of ebay along with the green tights and glasses.

- I used a variety of different ribbons to use including a simple one I found around the house, a sheer white ribbon that I cut up and turned to be WAY too small, and finally landed on a a nice fancy thick white ribbon I got at Michael's!