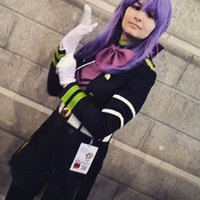 Hiiragi Shinoa
Convention
WonderCon 2016
Role

Cosplayer

Series
Characters
Details

What can I say? I love Shinoa!

- Uniform was purchased off ebay

- Boots are the same ones I used for my Sakura Shippuden, but repainted. I used mod podge to seal them and hot glued washers to the boots after painting and sealing them as well. Unfortunately, the washers didn't last that long the first time around so I instead painted the circles directly on the boots.

- The cotton thigh high socks are from amazon

- TricksterRedux cut and styled the wig and also made my hair bow. I glued the bow to a sturdy hair clip and voilà, a detachable bow to my wig!

- I keep up these impossibly high stockings with Japanese sock glue purchased from J-List.