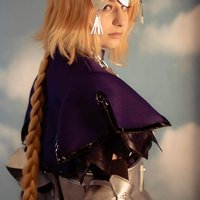 Jeanne d'Arc/Ruler
Convention
Animé Los Angeles 2018 (ALA)
Role

Cosplayer

Series
Characters
Details

Wig was purchased off ebay. Bow made by knovice and I.

Outfit + armor is from Taobao

For the shoes, I ordered some black ankle boots off Amazon.

My cousin worked on the flag while I ordered a pre-made pole from Aliexpress. Knovice and I later on modified the flag, adding trim and more detail to make it accurate.

I commissioned TricksterRedux for the sword, sheath, and belt.