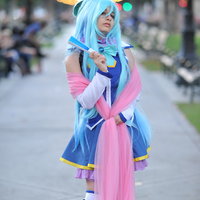 Aqua
Convention
Anime Expo 2017 (AX)
Role

Cosplayer

Series
Characters
Details

My good friend, knovice was having a Konosuba group during Day 0 of AX. Naturally, I had to look into it and instantly fell in love with Aqua!

- Wig was purchased from Cosplay FU

- Costume was purchased by knovice

- Hair accessory, boot covers, wand, and fan were made/modified by knovice

I look forward to cosplaying her again!