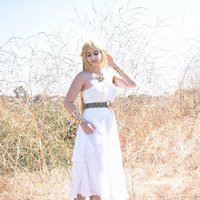 Princess Zelda
Convention
Anime Expo 2017 (AX)
Role

Cosplayer

Series
Characters
Details

This game has got me hyped and sleepless! There's no way I'm not cosplaying my waifu! >:D

- Wig was purchased off Amazon and cut/styled by TricksterRedux

- Elf ears were purchased from AradaniStudios on etsy and kept on with spirit gum

- Shoes I got from your local department store

- Dress and accessories were all made by Termina Cosplay! Do check out her work, she's amazing!

- Later on, I got a new wig from Epic Cosplay (Eros - Caramel Blonde) which was again styled by TricksterRedux.