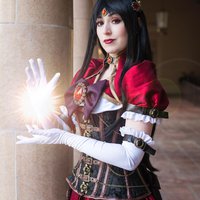 Steampunk Sailor Mars
Role

Cosplayer

Series
Characters
Details

Design inspired by this fanart: http://www.deviantart.com/art/FR-Steampunk-Mars-310008507

We had a big group for Fanime 2014! I made my Mars from scratch plus made Mercury for Cassierole to wear. I helped out the other girls as much as I could by making everyone's broach and tiara gems and assisting with draping skirts and patterning sleeves.

The gems are cast with resin and set in molded hot glue with strategically placed gears. My tiara is painted Instamorph thermoplastic. I made my own patterns and constructed it mainly with stretch 2-tone taffeta. I bought the gloves, shoes, and corset online and modified them as needed. Since the corset is overbust instead of underbust like everyone else's I made a little bra shell to sit on top of the corset to give the illusion that it is underbust.