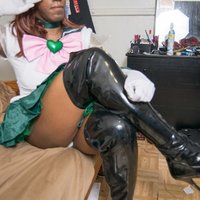 Sailor Jupiter - Costest
Role

Series
Characters
Details

Just an outfit that I bought myself on eBay a few weeks ago. Figured I'd finally get around to wearing it :D. For some reason, everyone loves me in the thigh high boots :D.

Also I fully plan on wearing this to a convention floor one day. Possibly will be Katsucon 2019. Still trying to garner the courage to wear it on the floor.