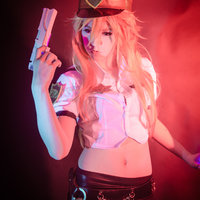 Police Panty Anarchy
Role

Cosplayer

Series
Characters
Details

The guns was made out of cardboard foam that I bought at Dollorama.
The skirt and the bracelet ... I think it my sister gave it to me someday and yeah, I kept , but not the bracelet
The belt and the handcuffs ... My mom gave it to me hahaha.... ... .... ... I need new handcuffs
I bought a police hat at Party Expert while I was in Montreal and added a hexagone shaped cardboard foam in it. So it created the pointy and hard base. After, I painted the hat in black, because it was originally navy blue. I added a golden strap that I had in my fabric supplies.. Don't ask where I got it, I don't remember !
The Rtpd signs and the star were made out of worbla with some paint.
I bought the shirt in a shop (really?) and cut it below my bellybutton. I created borders and tada! easy crop top !
The black stripes on my shirt was made out of leathers!
I also bought the boots and the stocking in some shops !
For the fake dildos, I bought them at dollorama! If you wanna do Panty or Stocking , you can buy them only in spring/summer time!