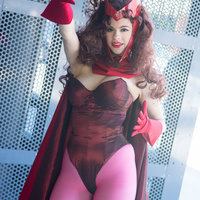 Scarlet Witch
Role

Cosplayer

Series
Characters
Details

Construction Details:
Quick Notes Version: rnMaterials used: two tone taffeta, red sateen, twill and canvas (under-structure), spiral steel boning, flat stays, 1/4" grommets, sintra, spray paint, craftfoam, dance tightsrnBunnysuit: rnConstructed starting with a duct tape pattern of myself. I then transferred this to twill. I made further alterations until I was happy. I sewed in a second layer of canvas on front center, front side and back center panels, in order to create boning channels off the seam. Then I sewed in boning channels to both sides of all the seams by using the seam allowance. I used 1/4" spiral steel boning in all channels except for on both sides the grommets and in the center front. I hand sewed in two push up bras into the cups. I then made the fashion cover and lining. I sewed in the lining then sewed bias tape to the top and bottom edge of fashion cover then hand sewed it to the base suit. I installed a small invisible zipper at the bottom of the opening. I installed grommets the rest of the way up.
Cape: Half circle pattern sew together with a worbla closure in the front with grommets. Cowl is a tube shape.
Shoes/Gloves: Base shoes patterns made with duct tape. Craft foam covered by sateen with a canvas sole. Gloves just traced around my fingers on two layers, sewn and cut out. Tops were craft foam pillow cased by sateen and spray glue.
Headpiece: Cut and heat formed out of Sintra. Edges cleaned and formed with dremel. Used about a dozen layers of filler primer, sanded then painted with metallic spray paint and clear enamel. Clear straps attach over the top of the ear and go through the wig.
Tights: Dyed Capizio shimmery dance tights in ballet pink to bright pink with RIT liquid dye.
I started maybe even six months or more in the research of material for this costume. Even thought there was only two different fashion materials in this costume it was the most difficult, stressful decision ever. Ugh. That wasn't for both of them...just one. I found the most perfect fabric ever for the main bodysuit and cape lining. A two-toned cherry taffeta. Having amazing depth and color change qualities it was excellent alternative to metallic spandex. The problem the regular red. I could not find the right sheen and when I did there was never anywhere close enough fabric on the bolt. I ended up with a low quality sateen, which was fine but not what I wanted.This was my first bunny suit and it was so exciting! rnI have actually been researching bunny suits for years, so I had a nice pile of reference for that already. I put in some additional research into corsets. Then I combined the two bodies of knowledge for what I wanted to achieve. To replicate the Adam Hughes proportions I got two push up bras from the discount store. One in my size with a ridiculous amount of padding, then one lightly padded in the biggest size I could find. Which in retrospect isn't really that big...lol. Freaking Adam Huhges. With all that I just barely managed to achieve an hourglass proportions.
The bunnysuit was laced with red para-cord. I wore spanx leggings then white tights under the pink tights because I dyed them too dark.
Personal Thoughts:
This cosplay had been in my bucket list for a while, maybe even before I had started cosplaying. Why? 'Cause Adam freaking Hughes that's why!How did this get pulled out of the bottom of the bucket list, you ask? Well, my cosplay partner (aka my sister) is moving and there was strong possibility of no more new cosplays for her. So after a few years of doing what I wanted to do, I asked her what she really wanted to do. So when we came across the all green Polaris she fell in love. I and was like this is perfect! I can do Scarlet Witch! rnrnI admit I don't know Scarlet Witch that well but I really wanted to do this design. So for this was more of an exercise in learning and executing new skills. Still very exciting and enjoyable experience.
Wig styling
I put the whole thing in rollers then poured hot water over it. After it dried I combed it out in a huge poof. I hair sprayed and teased the roots.
Wig Review
Cap construction was average quality. Beautiful color. To this was chocolate brown, nowhere close to an auburn. The wig fibers were thin and was easily permanently damaged. Even brand new the fiber felt rough and tangled quickly. Those "quick" tangles were difficult to comb out.