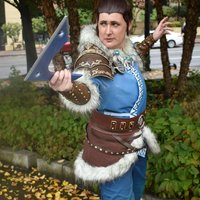 Hannah Alexander Sokka
Convention
Sakura-Con 2018
Role

Cosplayer

Series
Characters
Details

Sokka - Avatar the Last Airbender / Origial fan art by Hannah Alexander Artwork <3

Cosplay Construction Notes:

Sokka

The Shirt:
Alasse Veneanar Captivations and I knew that we wanted to have similar materials since we were both doing members of the Water Tribe. We settled on similar materials and the same fur so we would look cohesive. The shirt is a knit fabric that was originally a much lighter color and gradient painted with ColorTool. I did my best to match Hannah's original design but I may have gone a tad darker than I meant to. The lapel is a white cotton sateen with a teal cotton design appliqued to it and red coral beads glued between the designs. The fur is a huge chunk rolled on itself and hand sewn in place.

The Pants:
Pretty simple here, just grey cotton sateen that were also gradient painted with ColorTool.

The Skirt:
Also pretty simple, I even had the fabric on hand for this! It's a super soft brown moleskin and the fur trim was hand sewn on.

The Gauntlets:
I went back and forth on how to make these and finally settled on vinyl versus worbla, which is usually my go to for armor. Vinyl seemed to fit better with the character and in the end (especially comfort wise), I was happy with my choice. I tried to replicate the diamond patterned by stitching down the vinyl with a satin gold thread. Once the lines were in place, a prong was placed in where two lines intersect.

The Pauldrons:
Again, I was tempted to just use worbla for these, but I wanted to challenge myself a little more. There is worbla on the inside to help it keep shape, but the rest is all vinyl. For the smaller pauldron, I stitched down the length and width of it with the same gold thread as the gauntlets and added a prong at each intersecting point. For the larger pauldron, I originally considered painting the swirls designs but again, wanted to try something new, and decided to do vinyl cut outs instead. Once cut out and painted, I hand stitched each design in place. Considering the crappiness of my hand sewing skills, I think they came out looking pretty good. I then sewed on the gold string beads to the bottom for that additional detail.

The Belt:
This thing... omg! It looks like something the Boulder would wear. I used purse buckles for each of the rectangle designs, added prongs between those, made a vinyl lotus for the center, and hand sewed that in place. The large silver circle I made out of rolled worbla scraps and hand sewed it in place. The additional belt was going to be suede cording but I didn't have enough so I just made it out of a darker vinyl instead.

The Mini Belts:
After the big belt, these were pretty easy. I just used more of the same vinyl that I have left over from the rest of this. Added the buckles and studs and boom, done!

The Boots:
These started out as a pair of "Beach boy shoes", as I call them. The tip is made out of foam and glued into place. Once dried I was able to make a pattern for the cover and used some spare suede to make the entire shoe. These were by far the easiest and the cleanest shoe covers I have ever made... It was kind of scary honestly. Something almost always goes wrong for me when it comes to boot covers. The fur is again just hand sewed in place.

The Beads and Feathers:
I think this was probably the first thing I had completed for Sokka. The feathers are a combination of pheasant and duck and are wrapped in a blue suede cording. I got lucky with the beads and found something that was pretty close to the colors and shape she used for her design. The teeth are probably the coolest, they look like carved bone.

The Wig:
So I stupidly left this for last thinking this would be so easy to do since there was so little hair. Let's just say lesson learned. This thing was such a struggle to keep clean and even. I was finally able to get the look I wanted though, and in the end was pretty happy with it. I even added some feathers and beads to the wolf tail. It seemed appropriate.

The Boomerang:
So this is all thanks to my dad. He was watching me run around like crazy person getting this costume done and asked if he could make the boomerang for me and I was SO happy he offered because I wasn't sure I'd have time to do it myself. He had some spare wood for me to draw out a base design and he then cut it and shaped it out for me. Once he was done all I had to do was paint it. Thanks dad! <3

Water Tribe Crest:
Super easy. I think it was done in a day. The whole thing is layered foam glued in place and then covered in worbla and painted silver. It was a nice easy thing to make after all the tedious details from the pauldrons.