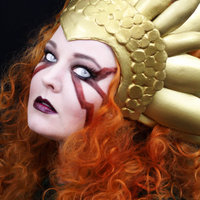 Angela, Witch Hunter
Role

Cosplayer

Series
Characters
Details

Award: Boston Comic Con 2015 Best Masters

Helm - Craft foam covered in worbla then sealed with wood glue and wood sealer. Paint was custom mixed to match the spandex on bodice.

Wig - Took 4 Merida wigs from ebay and wefted them together then teased and heat styled the hell out of it. I looked like ginger Cher.

More to be added later.