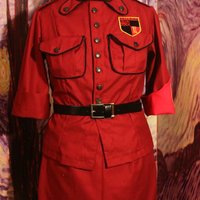 Seras Victoria (Red)
Role

Seamstress

Series
Characters
Details

Construction Details:
Made of a dark red twill from Joanns with a billion yards of black, cotton piping. The buttons are those 6 for $1 plastic buttons that I spray painted with an outdoor "metal like" spray paint to make then light but snazzy looking. I made the thigh highs with stretch red knit so it would hold the holes well and sit right on her leg.
Personal Thoughts:
This was for a pair of customers who wanted to cosplay the yellow and red versions of the same character. These were both pretty tedious, but I felt pretty accomplished once they were completed on the dress form. SOooo much weird piping placement.