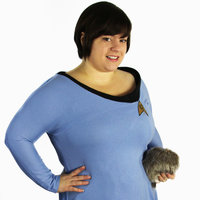 Science Ensign from Star Trek
Description
A little bit about the dress. My friend Benn was kind enough to get my hubby and I advance screening tickets to the most recent Star Trek film. I really wanted to wear something fun but I had 2 days to get something together and I'm not a fan of the NuTrek dresses on the market. I really wish there were long sleeve NuTrek dresses available since the cap sleeves are kinda meh to me.

So I hit Joanns and picked up some 2-way stretch, cotton knit fabric from their Sew Classic collection in Cornflower Blue and a black ribbed fabric for the collar. Figuring out the pattern for the dress was ... interesting. I used a lot of sources to get the seaming correct from screenshots to Anovos shots to some really old "patterns" I found as part of Star Trek costume studies online. I had an old Kiki dress that was made of the same fabric in purple I knew I was never going to wear again so it was sacrificed to the costume gods for the pattern to save time. The fitted it snugger in the arms and then started drawing out the lines with a black sharpie so I could cut it out and add some seam allowance. I then had to sit and stare at it for a while to make sure I had the patterning out for front and back pleats.

Then the terrifying part of cutting the blue since I knew I only had enough time to do this once to wear it for the movie showing. Thankfully I did enough patterning and "measure twice, cut once" thinking that everything went fine. If I make another one I'll leave a bit more room in the top of the arms and make it a bit longer. It's show "accurate" but that also means there is no "bending over" in this lol

The collar is 4 way stretch so it's just a straight line of the fabric folded over once and it dips deeper in one spot to meet up with the front seam corners.

The badge is a strong heat n bond onto some gold fabric scraps I had that I cut into the shape. I then (because of time) used a black sharpie to fake the way the black stitches looked on the original embroidery.
Last Updated: November 26th, 2013 at 8:51 PM

Photos