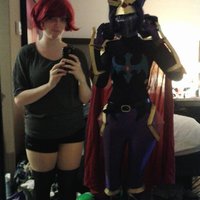 Don't get involved with me
Role

Cosplayer

Series
Characters
Details

Technically done but I'm listing it as in progress until I get some proper shots of him.
I made the body suit myself from what ever vaguely stretchy fabric I could find at Joannes that was at least marginally the right colour. All of the pieces of armour are made from worbla. The large gems were cut from translucent plastic folders form staples and hot glued into the 3D gem shape. The mask was made using a poster board base covered in model magic to form correctly to my face along the edges, and then was liberally coated in liquid latex to give it a more even texture. The wig is the same one I used for Ryouga but with the tendrils bent up into shape and the blue 'banges' removed from the front.