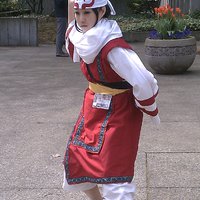 Kyou Kai/Qiang Hui
Role

Cosplayer

Series
Characters
Details

Pretty damn proud of this for doing it last minute--honestly I don't know anyone else who watches/reads Kingdom besides me and the people who comment on manga reading sites.
First time putting fake lashes on myself! Had Kiby do it for me once for Erza, but 'eee'. As a friend said "You look Asian for once!"

Kyoukai is so badass! Love her so much!! The wig and shoes could use a lot of saving....how wig cut...