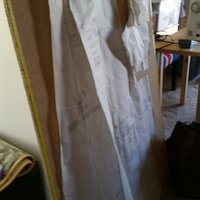 Beatrice dress making part one
Role

Photographer

Series
Characters
Details

This is the WIp Gallery specifically for the Dress. I am working together with who I will call Mrs. Kopaz, who has sewn and made props for over 25 years. She is a real historical buff too. I learn the proper way to sew a big fabric, learn about actual historical look to the dress, as well as proper terminology (I forgot it again XD). She love to say that sewing should be like a sport. Also recalled to line up ever thing well and evenly.

I learn that the dress is always longer in the back then the front because of your butt!

She also has a serger! What a beast that searger is. So easy to make overlock stiches!

I was hoping we get done in one day, but it seems not... One last sessions should do the trick.

Also I was surviving allergies so I had to wear the mask the whole time. She has 3 cats and they all love me.