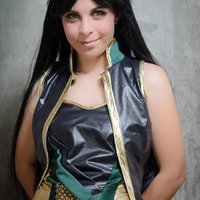 Loki
Role

Cosplayer

Series
Characters
Details

This was a very last moment costumes. Like I made this in two days kinda of last minute. I have loved Loki for a very long time. He is my favorite Norse god, and since I have been getting into more comics.
For this costume I used a corset pattern and just added to it along the way.
My first time working with Pleather on such a huge level. I had to to redo a couple panels, since I sewed the wrong area and you could see the holes.

I am torn between redoing this and making it a proper corset, it has a zipper in the back and leaving the costume. Its a pride thing to say I made this in 48 hours with no sleep.