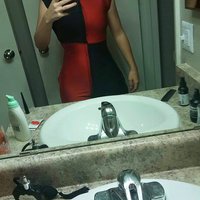 Classic Harley quinn
Role

Cosplayer

Series
Characters
Details

I Have been in love with Harley Quinn since I was little. I grew up watching the original batman series. This was a oh snap moment, It was my first major time working with spandex. I made like three body suits before I was happy with one.
For the cowl,I took in a hood pattern and added horns to it. For the Diamonds I used the Reverse applique way. I like it more than just laying the pieces on top and sewing over them.