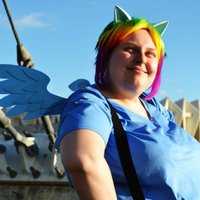 Rainbow Dash (My Little Pony: Friendship is Magic)
Role

Cosplayer

Series
Characters
Details

Probably cheated but my wings and ears were bought from Yaya Han.

Basically just a last minute cosplay thrown together to match some friends, but was certainly fun! I do need to fix it; The suspenders I just need to repurchase so they aren't already broken when I got them, and perhaps warmer shorts for cold weather as that was a problem for me. Also Maybe get a blue shirt that matches my wings a bit better.

Debuted at Nekocon 17.