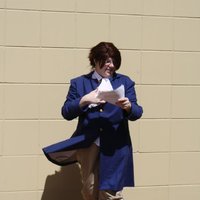 Roderich Edelstein (Axis Powers Hetalia)
Role

Cosplayer

Series
Characters
Details

Second cosplay that was made by myself (well, my mother and myself as she knows the sewing machine better than I do).

Materials:
Dark blue cotton fabric
Interfacing
the buttons are military grade brass buttons, and if you look closely, they're actually imprinted with an anchor (leftover buttons from my father's military uniform repairs)

Regular store bought pants, not hand sewn. Same with the boots (which are from DSW shoe store).

I cannot remember where I got the wig from, but it's not really one I like. The fibers are incredibly scratchy, though they hold well with fabric stiffener (what I used to make my curl). Curl is attached hair from the wig top itself.

Glasses are mine, and are prescription.