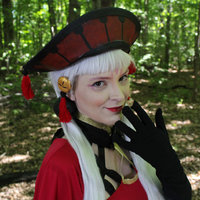 Delphine Eraclea
Role

Cosplayer

Series
Characters
Details

Character: Delphine Eraclea
Variant: Young
Wig: Venus in Silver by Arda Wigs Canada
Fabric: Goodman Fabrics, Fabricville
Notions: Fabricville
Craft Supplies: Dollarama, Cosplay Supplies

Delphine is my first villain cosplay! I don't normally do villains but when I do, I play the crazy psychotic ones! Delphine is seriously messed up but I think that's what I liked about her. She wasn't a corny villain who just wanted to take over the world or exact revenge on someone. She was legit insane!