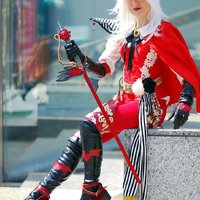 Red Mage
Role

Cosplayer

Series
Characters
Details

As I work my way up the timeline of FF games I stumbled upon FF3 and really thought the red mage characters were adorable. I wanted to try my own version of this type of character so I redesigned it to my liking. I used many references from the first FF game, FF3, FFX (they had bell bottoms yo!) and then FFX1 but I kept the color scheme of the original costume.

The pants and corset were store bought and then I added my own embroidery patches to it. The hat is made from a sheet plastic base that had red satin over layed and glued on it. It was not so hard to make but somehow I love wearing this and
feel like its going to be in my cosplay closet for the years to come. Its so stylish yet iconic!

Originally I wanted a bit more accessories on this character but decided to forgo them because the costume felt overloaded with more bling bling. I may tweek a few things in the future but overall im very happy with how it turned out.
One thing that needs to change for sure if my killer shoes. Seriously i tripped no less than 3 times wearing them....stupid platform heels.

PS I borrowed the wand and sword from a few of my other costumes.