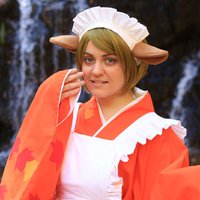 Deer Hanayo
Role

Cosplayer

Series
Characters
Details

I wanted to originally make and wear this to AnimeUSA 2014 but I wasn't able to attend :(
But, I was invited to a small gathering at a local park, so I decided what a perfect time and place to wear this!!

I used Kona Cotton for most of the costume, the top is based off a yukata and the bottom is a gathered skirt that I attached together, but it still wraps over the body. All the leaves are ironed on via 2sided adhesive sheets there are about 45 total @-@ I really liked making the apron the most so many ruffles!! Dat headband was a pain to fine the thickest interfacing but I'm satisfied. I didn't get the pair of geta I ordered in time, so I wish I went out and got frilly socks or something..

I really don't like the color of the Lucaille wig with this costume, the green stands out too much compared with the orange, I've since bought an Arda in Sandy Brown which I hope will compliment the colors.

I really hope I can wear this again in the future, maybe with a full animal group!!