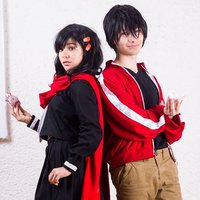 KagePro: Tateyama Ayano
Role

Cosplayer

Series
Characters
Details

Made for Icon 2014, AnimeCon 2014 and Olamot 2015 (day 2)
The scarf belongs to Davir Ilan. I made the uniform.

Shintarou Kisaragi: Yoni Linder
Pictures: Noa Yaron, Roee Zinaty and Yaniv Gadi

Since it's a really comfortable cosplay I wear it a lot, mostly for going around the con and less for photoshoots.
That's why there are a lot of hallshots of me in it and not many photoshoots pics.