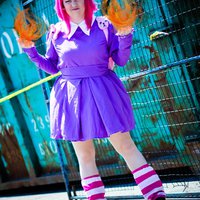 Annie
Role

Cosplayer

Series
Characters
Details

Annie was my first main in League of Legends and I fell in love with her and Tibbers right away!
Her costume was super cute and comfortable and also had a backpack that was functional, which is always a plus when cosplaying!
The costume was made for Anime North 2014 and has been updated slowly since then as it is one of my favourite costumes I have made.

The original skin is still my favourite because I love the dress version and not the skirt and vest.
The dress was made from purple cotton and white for the collar. The backpack is fleece and was super fun to make!
I made the leg warmers with cotton scraps I had left over. Ears were glued felt and a headband. I styled and cut the wig myself and added extra wefts for some thicker hair and to cover the back wefts that seemed to show.

Tibbers was my fiance and the fur suit was made by myself and the rest he made.

Still my favourite costume I have ever made!