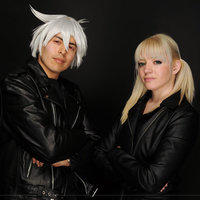 Maka Albarn
Role

Cosplayer

Series
Characters
Details

Cosplay - The jacket was purchased, and I had a nice tanktop to wear underneath. I made a simple skirt, by bascially eyeballing the design.

Wig – I used a 54in Pink curly wig, which I braided and trimmed up the bangs. It was actually a re-used wig from another cosplay that I didn't feature on this page, since I don't really have any good pictures of it.

Props – Soul cosplayer - Michael (Does that count as a prop?). I also carried around a heafy book, Mirror Kingdoms, by Peter S. Beagle.