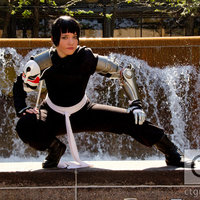 Lan Fan
Role

Cosplayer

Series
Characters
Details

Cosplay - Pretty simple, I bought a pair of pants for this costume. I added a cowl to a top, and voilà, I had a cosplay.

Wig – Just a black wig clip and some black hairspray (which took 3 days to full wash out, and got everywhere!)

Props – The automail arm was another Sintra project.