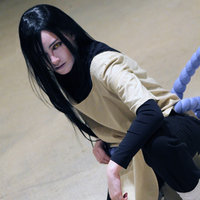 Orochimaru
Role

Cosplayer

Series
Characters
Details

Cosplay - Just a quick tunic, I at least helped with it xD I drew it and cut it, just didn't get to sew it together - Varia did the sewing!

Wig – Just a long black wig, no styling required.

Props – Tubey rope thing was made with a foam pipe, stuffed inside the purple tube, with some fishing line wrapped around it. Worked really freakin' well.