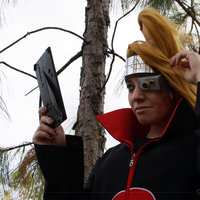 Deidara
Role

Cosplayer

Series
Characters
Details

My first cosplay since I decided this was a hobby I really wanted to pursue… you can check out my very first attempt here. This character was sort of tossed on me at the time, and then I had barely any experience to go on, plus, no sewing machine, no experience with wigs… nothing. So I watched a few episodes of Naruto Shippuden, and followed up with a lot of brainstorming and conception on the wig and eye piece. For my first attempt on props, I thought I did a decent job.

Cosplay - Cloak, Hitai-ate, pants, top and mesh shirt were all purchased/thrifted. Shoes and shoe covers were a gnarly set up of sandals and shoddily sewn together leg warmers. xD

Wig – 2 Piece wig, with a headband/post setup for the ponytail. It wasn't the most comfortable wig I've worn… as a matter of fact, it was the least. I hated wearing this cosplay specifically because of the hair.

Props – I also created a little eye protector from sculpey.