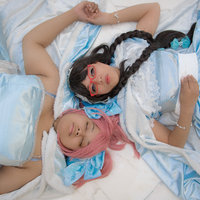 Winter Madoka & Homura
Role

Cosplayer

Series
Characters
Details

Photo: Onion Cosplay & Photography
Madoka has 640 pearls all hand beaded, 6 diamonds, 5 yds satin, 3 yds velvet, 1 yd tulle, 3 yds trim, and 3 yds ribbon. Homura has 420 pearls all hand beaded, 4 diamonds, 6 yds satin, 3 yds vevelt, and 5 yds ribbon. Both were made with shit tons of glitter on the shoes and all the despair lolz I made these both in a week. I modified them from the original art concept since the ssr version is NOT winter friendly even though it's a winter design. What I

love most is how cute we look in them. What I dislike most is how cold they are for winter cons. The hardest part was making threading the beads onto the wires to make sure they kept their shapes (hair & butt bows). Easiest part was the dresses.