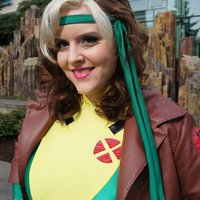 90's Rogue
Role

Cosplayer

Series
Characters
Details

This is my absolute favorite costume! The easiest to get on, most comfortable and has been upgraded the most out of all of my costumes. Hair is my own hair now and has been dyed rather than wearing a wig.

Cost ~100 Time ~75+hrs

Costume made entirely by me. Coat originally found at Forever 21. Re-make made entirely by me and pattern drafted by me using one of my other coats to figure out what goes where with modifications. Made of fake leather. Patches made and hand sewn by me made of pleather. Bodysuit was my first bodysuit making experience. A lot of maths and redoes have gone into this pattern. I also had to remake parts of the costume to get it to fit right using darts. Used stretch stitch on my sewing machine to sew all parts together, cut out green part first then sewed yellow to green, then sewed it all together. Zipper sewn into back of costume. Pleather details on chest area hand sewn on.

Boot covers made like a sock, hole cut for heels, then heel covers made. Used rubber found at Harbor Freight for traction, hand sewn on. Cuffs at top hand sewn in craft foam, kept up using velcro, soft side attached to costume, so I can wash it easier. green parts of boots sewn on by hand while wearing to makeup for stretch. I am wearing green contacts and will be getting a more vibrant color when they die. Gloves made and drafted by me. Attached stirrups to arms of bodysuit when I realized that button-holes where cutting off my circulation.

Belt originally a yellow one found at a store with camera case attached. Re-make belt made from same fake leather as coat. Pouches made from same by hand and stuffed with foam to keep their shape. Buckle taken from another belt then cover with a buckle I made from craft foam covered with hand sewn pleather.